Welcome to Florida Jet Skis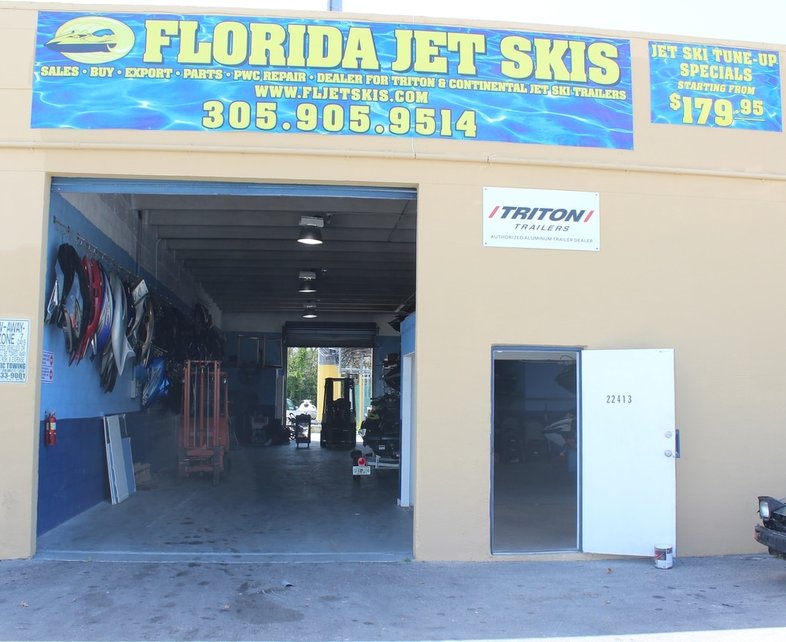 Looking to get out in the water this summer, look no further We have quality Jet skis at great low prices. We update our inventory weekly.

First time buyer? Not a problem, we will teach you how to properly maintain you're personal water craft as well as answer any question or concerns you may have. Our goal is to provide a high customer satisfaction and water safety.

We carry all major brand 4 stroke Jet ski's. Yamaha, Sea-Doo and Kawasaki. We have all kinds of Jet Ski's to fit your needs and style. Whether it's to go fast, be agile or for the family. Come on over and check us out in person. No hidden fees. Sorry, but we don't offer financing.
---
Looking for Trailers?.. We carry those too.
We are an authorized dealer for both Continental Trailers & Triton Trailers. This way we can offer you options that best fit your budget and use. We can order other types of trailer such as Pontoon, Skiff & Boat upon request, with a deposit. Tongue jack sold separately. *For Triton Trailers please allow 20-40 minutes to assemble.​
​​Continental Trailers
​WC2E9: Brand new 2020 Galvanized Trailer, 2 year warranty, winch with strap, bearing protection, waterproof lights, 900lbs capacity. This trailer is perfect for lightweight personal watercrafts & Jon Boats.
​ $750.00 + (Tax) Total $802.50

​​WC3E12: Brand new 2020 Galvanized Trailer, 2 year warranty, A-Frame, winch with strap, bearing protection, waterproof lights, 1,200lbs capacity. This trailer is perfect for heavy personal watercrafts.
​ $900.00 + (Tax) Total $963.00

Triton Trailers
TR-WV: Brand new 2020 Aluminum Trailer, 5 year warranty, dual bowed cradle frame, winch with strap, waterproof & sealed lights, spring axle, 1,000lb capacity.
​ $899.00 + (Tax) Total $961.93 (Tongue Jack optional $40.00)​

---
TR-LTWCII-S: Brand new 2020 Aluminum Double Trailer, 5 year warranty, adjustable ISA bow post, dual bowed cradle frame, winch with strap, waterproof & sealed LED lights, spring axle, 2,180lb capacity.
$1,650 + (Tax) Total $1,765.50​ (Tongue Jack optional $40.00)

---
​TR-LTWCI-S: Brand new 2020 Aluminum Trailer, 5 year warranty, adjustable ISA bow post, dual bowed cradle frame, winch with strap, waterproof & sealed LED lights, spring axle, 1,780lb capacity.
​ $1,300 + (Tax) Total $1,391.00​